Submitted by Christine Kragel, Community Relations and Foundation Director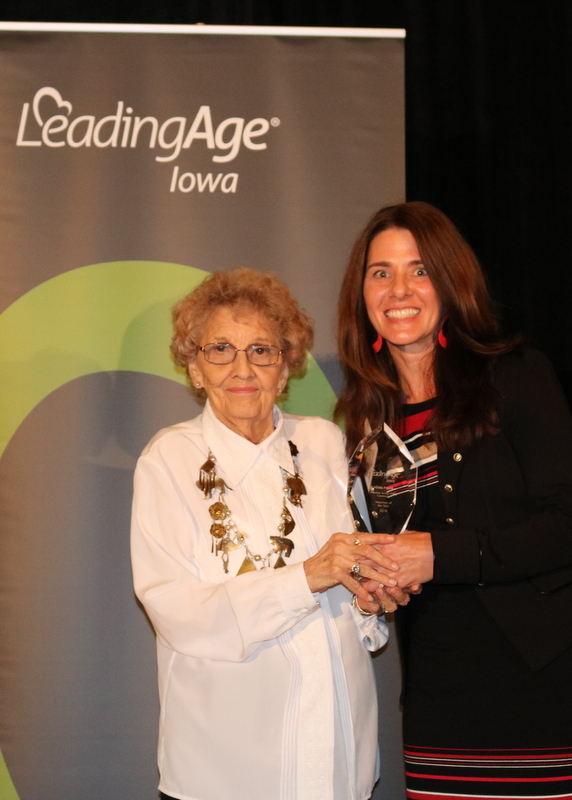 Hilda Frank has been awarded the Volunteer of the Year Award by LeadingAge Iowa, an association representing not-for-profit aging services providers. The award is given to an individual who demonstrated a unique commitment to preserving the dignity, well-being, health, independence and fullness of life of residents or clients of LeadingAge Iowa member organizations.
Hilda won the Volunteer of the Year Award based her continued service to Eventide Senior Living residents. For the past 20 years, Hilda has been a consistent and positive presence at Eventide. She can be found on Eventide's campus weekly helping with bingo, birthday parties, special events, nail care, Lutheran communion and much more. She has even been roped into wearing a gown and acting as a judge for a variety of contests. Living only a few blocks away, Hilda is often called on for last minute needs and is always willing to jump at any given moment. Hilda has also served on the Eventide Auxiliary, acting as a secretary for numerous years.
Hilda is 89 years young and has no intentions of slowing down. Hilda knows almost every resident by name and is very dedicated to them and the activities staff. Hilda has a talent for identifying strengths in residents and then encouraging and supporting those strengths through hobbies and activities. Over the years, she has built meaningful and lasting relationships with several residents and staff and has been an invaluable part of the Eventide community.
"She brings joy to our residents and they think the world of her. So do we," exclaimed Robin Schiltz, Eventide Activities Director. "We are blessed to have such a faithful and dedicated volunteer, and we believe she is deserving of such award."