Our Boldest Move Yet
Over the years, Eventide has set the standard for senior care. Now during our boldest move yet, our vision is to build a replacement Skilled Nursing Facility in phase one, and incorporate the household model of resident-directed care. The proposed nursing facility will serve nearly 80 residents daily and provide services for seniors needing short-term rehabilitation, long-term care, memory support or hospice care.
Eventide leaders are taking bold steps to adequately serve multiple generations of future residents. A substantial financial investment in facilities, programs and people is required to transform our community's health care future. An Eventide transition to fully capture the household design is dependent upon the creation of new facilities.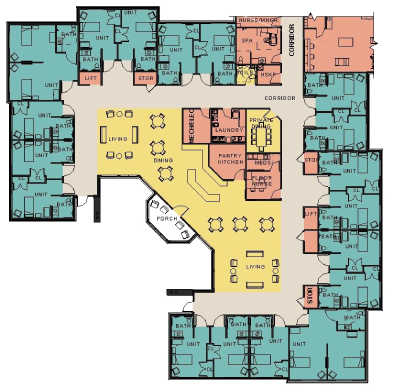 The following are the most critical design elements:
· Majority of private resident rooms
· Larger resident bathrooms
· Household dedicated to memory care
· Private outdoor courtyards
· Family spaces
· Kitchen within household
· Shorter distance in household
· Greater resident dignity and privacy
· Resident and staff empowerment
· Increased socialization
Phase two will be to add to our continuum by building a Memory Support Assisted Living. When the timing is appropriate for phase two, the memory assisted living will be constructed to adjoin Silveridge Assisted Living, and will serve an additional 16 tenants.
We Need Your Help!
This kind of change cannot be accomplished by just our organization. It takes a community. Your investment will mean a better community in which to live in and an enhanced quality of life for you and your loved ones.
The entire cost for the nursing facility is approximately $15 million. To maintain Eventide's sustainability, a fundraising goal of $3 million must be met.

Eventide is a non-profit charitable organization and is a tax exempt entity under section 501(c)(3). Your contribution to the Grow Bold With Us Campaign will be tax deductible.

Donors
Donald Hoemann – In memory of Fola Hoemann
Donald Hoemann – In memory of Virgil Dozark
Donald Hoemann – In memory of Darlene Dozark
Ken Westrom
Dennis & Coleen Bruhn
Allen & Linda Nepper
Bank Iowa
United Bank of Iowa
Luella Henschen
Tim & Candy Stuart
June Baker
Crawford County Bank
Jill & Kerry Kierscht
Doug & Pam Soseman
Norm & Lorraine Christiansen
Rotary Club of Denison
Rick & Marla Franck
Dr. Rose Mary Mason
Leonard & Shirley Walde
Scott & Carol Brus
Jim & Faylenne Slechta
Dan & Danyel Jepsen
Kris & Marc Rowedder
Joan McBride
Jerry Jeschke
Brad & Shani Bonner
Mark & Sue Gray
Brian & Carol Boeck – In memory of LaVere Andersen
Virgil Jochimsen
Chris & Tonya Eller
Bradly J. Nelson Law Offices
Deryl & Joan Hennings
Bryon & Karen Weiss
Gary & Karen Christiansen
Doug Lockin
Randy & Mary Bruhn
Vision Care Clinic
Gaylord Boeck
Jim & Toni Lohman
Counsel Doc
Alan & Kathy Weiss
Huebner Funeral Home
Steve & Kathy Brownmiller
Thrifty White
Diana Schultz
Roger & Donna Harm
Dr. John & Andrea Ingram
Todd Thams
Martin Bros. Distributing Co., Inc
D.W. Crabb, MD
Loren & Marlene Lee
Mr. & Mrs. Gary Peters
bluespace creative, inc.
Lynn & Clarence Hoffman
Adam & Jill Schweers
Craig Whited/Topko Home Equipment
Nix Lauridsen
Jan Henningsen
Wells Fargo Foundation
Thrivent Financial – Neal Meseck
Thrivent Financial – Jared Koch
Thrivent Financial – Craig Dozark
Henry Vannier & Ron Vannier
Eventide Foundation
Pauley Auction Services, Inc.
James Buss
Larry & Dorothy Rix – In memory of Peter & Jane Pickel
Steve Wilkens
Geraldine Goslar
Del & Jean Warren – In memory of Bud Barnes
Bob & Shelley Starman – In memory of Jean Ohl
Darlene Abbe Family
Norma Petersen – In memory of Glenn Petersen
Irene Stark
Shirley Vipond
Shirley Malone – In memory of Della Martin
St. John's Sewing, Kiron
John & Celia Nelson
Craig & Rita Brodersen
Charlene Pedersen Family
Ruth Frazier – In memory of Ruth Volkmann
Dennis & Coleen Bruhn – In memory of Ruth Volkmann
Rick & Jane Carstensen – In memory of Roseann Gehlsen
Rick & Jane Carstensen – In memory of Charles Smith
Dorothy Childress – In memory of Jim Thelen
Mike & Kathy Lickteig – In memory of Fred Lanz
Mike & Kathy Lickteig – In memory of Al Overhue
Larry & Annette Boeck
Todd & Kris Schultz
Melvin & Marcella Petersen
Family of Wilbur Reimers
Jerry & Shirley Stull
Rod & Becky Kunze
Williams & Company
Alvina Lanz
Dave & Anne Radke
Micheal & Alexandria Keller
Justin Uhrich
Ryan & Andrea Beduhn
Broadway Dental
Larry & JoAnn Clausen
Roger & Delores Dozark – In honor of Don Hoemann
Peg & Hoemann – In honor of Don Hoemann
Richard & Hilda Frank – In memory of Family
Harry & Bonita Wertz
Joni & Todd Slechta
Jessica Garcia
H. Dennis & Marlene Bergstadt – In memory of Loved Ones
Allen Wiese – In memory of LaDonna Wiese
Fas-Break of Carroll
Doug & Alison Ehlers
Tom & Colleen Ludwig
Gary & Bev Peters – In memory of Deb Aldag
Merry Jacoby – In memory of Deb Aldag
Leroy & Marlene Hight – In memory of Deb Aldag
John & Alana Curnyn – In memory of Deb Aldag
Dennis & Coleen Bruhn – In memory of Deb Aldag
Wayne & Joyce Miller – In memory of Deb Aldag
Rick & Jane Carstensen – In memory of Deb Aldag
Janet Lafrentz – In memory of Deb Aldag
Williams & Co.
Shirley Stull
Ken & Gloria Splittgerber
Family of Wilbur Reimers
Melvin & Marcella Petersen
Todd & Kris Schultz
Larry & Annette Boeck
Theresa Romey
Gary & Bev Peters – In memory of Marlene Fredericks
Tom & Colleen Ludwig – In memory of our Mothers
George & Shirley Berry
Neal & Susan Walde – In memory of Ray & Clara Walde
Russel & Mary Walde – In memory of Ray & Clara Walde
Dale & Maureen O'Connell – In memory of Ray & Clara Walde
Joe & Corrine Smith
Glen & Edrie Wellendorf
Jeanine Baker
Gary & Karen Christiansen
Dick & Jolene Streck – In memory of Viola Barnes
Dick & Jolene Streck – In memory of Ed Pranschke
Butch & Renee Miller – In memory of Henry & Margaret Meyer
Jan Bendixen – In memory of Dr. Ben Bendixen
Shirley Kellogg
Anonymous – In memory of Marlene Fredericks
Thomas & Carole Eller – In memory of Connie Eller
Jolene Meyer – In memory of Wilma Walde
Joleen Whited – In memory of Wilma Walde
Robin Schiltz – In memory of Wilma Walde
Marilyn Yoakum – In memory of Wilma Walde
Russel & Mary Walde – In memory of Wilma Walde
Gordon Weibers Family
Home & Hobby Club
Bruce & Connie Thompson
Jim & Marsha Lindstrom
Glenn & Diane Schiltz
Janet Jacobsen – In Memory of Macel Schneider
Lois Ernst Family
Jeff & Kim Petersen
Richard Merrill
Eventide Auxiliary
Lois Gronau
James & Mary Buss
Jodi Bruhn & Ryan Boettger
Professional Computer Solutions
Nadine Watson
Ken & Gloria Splittgerber – In memory of Paul & Ruby Jahn
Ken & Gloria Splittgerber – In memory of Kenny & Helen Hinze
Verdell & Marlyn Kastner
Charles Bandow
Scott & Marcy Larson
Hoffman Agency
Hog Wild Motorcycle & Car Show, LLC
Noel & Sandy Johnson
Charles & Diane Ettleman
Brett Malone
Raymond Franck
Lowell & Doris Neumann
Derek & Brooke Lambert
Norma Berens – In memory of Michael Berens
Jeanie Mork
Jack & Zelda McDuff
Chris & Joan Petersen
Greg & Lori Wehle
Friends of the Senior Center
John & Mike Krajicek
Faith Lutheran Church, Deloit
Betty Bilsten – In memory of August & Mahala Petersen
Gary & Linda Reimer
Deloris Bigge – In memory of Wiletta Sander
St. John's Lutheran Church, Charter Oak
Elden & Marjorie Goslar Family
Arlene R. Brummel
Dennis & Coleen Bruhn – In memory of Kay Reese
William & Peggy Aldag – In memory of Edgar Meseck
Tim & Lisa Weber
Bedrock Concrete & Gravel
Eventide Auxiliary
Joe & Nicole Ferguson
Crawford County Memorial Hospital
Dress & Co.
Feld Fire
Marten Insurance – Jay & Dana Marten
Staley's Food Service
Christiansen Farms, Inc
Reliance Construction of Iowa
Denison Drywall & Supply
GAB Girls Book Club – In memory of Deb Aldag
Carroll Control Systems, Inc
Carroll Cleaning Supply
Phil's Lawn & Landscaping
Loeschen Family
Don & Holly Beerman
Deb Ferguson – In memory of Scott A. Ferguson
B&D Commodities
Stables of Copper Ridge, Matthews Family
Denny & Cheryl Neppl
Paul & Jody Assman
Leonard & Shirley Ahrenholtz
Marc & Holly Meyer
Wayne & Joyce Miller
Steve & Lisa Clausen
Jean Neppl & Family
Tim & Lila Bubke
Trevis & Laura Beeck
Randy & Dolores Kuhlmann
Mike & Tracy Beeck
Bill & Bette Bruce – In memory of Bill & Clara Bruce
Donavon & Donna Sonnichsen
Rev Merle & Chris Mahnken
Mike & Kathy Lickteig – In memory of Bill & Brenda Blum
Myra Williams
St. Paul Lutheran Church, Hanover Township
Art Bailey Memorial Fund
Patricia Ettleman
Ace & Marilyn Ettleman – In memory of Darlene Baedke
Gaylen & Marvel Bahnsen – In memory of Darlene Baedke
Darlene Baedke Family
H. Dennis & Marlene Bergstadt – In memory of Darlene Baedke
Mark & Connie Press – In memory of Harold & Darlene Baedke