We continue to test nursing facility residents at least weekly and team members twice a week. We are pleased to report no new positives occurred this week. We continue to take proactive measures and make changes as deemed appropriate.
The Centers for Medicare and Medicaid Services, Iowa Department of Inspections and Appeals, and Iowa Department of Public Health recently revised reopening guidance for long term care facilities. The guidance eliminates the three phased approach and instead moves towards the positivity rate within the County and in the Facility as a baseline. The guidance reflects visitation, dining, and activities to name a few. The below table displays types of permissible visitations.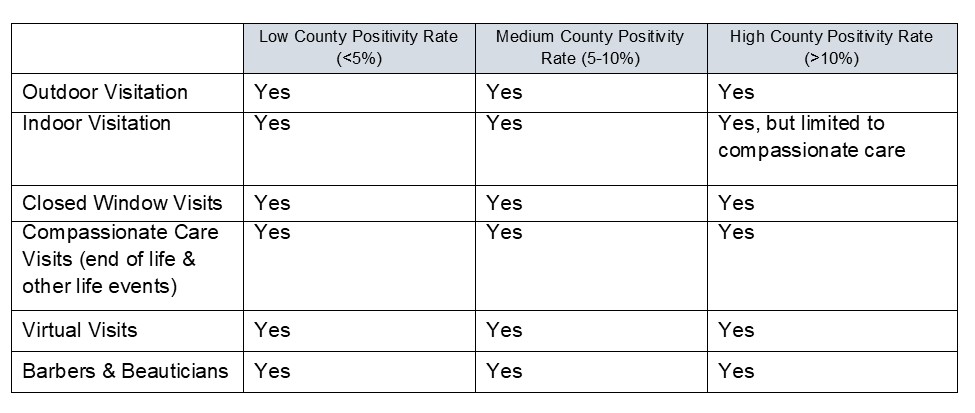 An outbreak in a facility may alter visits. A facility outbreak does have different definitions based on Federal vs State. On the federal level, an outbreak is one positive individual and it remains in outbreak until fourteen (14) days passes with no new positive cases. To be listed as an outbreak long term care facility in the State of Iowa, a facility has three (3) positive resident cases within the same fourteen (14) days and the facility remains there until twenty (28) days passes with no new positive cases in a resident or team member. Also, the long term care outbreak numbers listed at https://coronavirus.iowa.gov/ are not accurate, at least for Eventide. I have made attempts to get the bottom of the inaccuracy without much success. For the most up-to-date numbers, please check the Eventide Facebook page or website. Our numbers are updated at least weekly and within 24 hours of any new positive.
The revised guidance also reflects communal activities and dining. While adhering to the core principles of COVID-19 infection prevention, communal activities and dining may occur. Based on status of COVID-19 infection within the facility, Eventide and Silveridge may have additional protective measures in place for activities and dining.
In reviewing the table above, one can certainly see the importance of getting our county rate to drop. On behalf of the Eventide and Silveridge residents, families, and team members, we pray the community does their part in practicing safety. Our county rate has not been 10% or less since August.
In closing, a special thank you to those who send positive words of encouragement. This means so much more than you will ever know.
Facility: Eventide Nursing Home
Cumulative # of Residents COVID+ as of today: 9 (0 active cases)
Cumulative # of Staff COVID+ as of today: 25 (1 active cases)
Reason for Notification:
✔ Weekly Update
Please know that we are taking all actions we can to prevent the risk of further transmission of COVID-19. We are screening staff before and after their shift, creating isolation areas, wearing PPE, all staff wearing masks when in the facility, on-going education, cleaning and disinfecting frequently, limiting visitation, utilizing telehealth, etc.
If you have any general questions, please contact CEO Mindi Baker at 712.263.3114. You may continue to contact the resident's nurse for specific resident conditions.
---
Not required by CMS but we offer the following transparency for Silveridge Assisted Living:
Cumulative # of Tenants COVID+ as of today: 0
Cumulative # of Staff COVID+ as of today: 0